AOG Common Process Model
Background
Azimuth Consulting has been assisting and guiding government agencies to select and implement ERP solutions for over 30 years.
Throughout its work with government agencies, Azimuth has championed not only the adoption of proven and open, global methodologies and solutions but also the deployment of common and more collaborative, agile methods across a more 'joined-up' public service.
Recently, we have engaged with agencies who face upcoming system and process upgrades relevant to their corporate services' functions. Azimuth team members know that the technology-agnostic Common Process Model (CPM)  sponsored by IRD will underpin the widespread adoption – and controlled adaption – of common processes as these technologies are procured.
We know too that the CPM is a fundamental pattern-breaking resource and are committed to assisting its proper deployment. Accordingly, Azimuth has invested in the appropriate knowledge, methodologies, training and partnerships to assist government to leverage its investment in this vital foundation artefact.
Common Process Model Services
At the highest level – that is, for the end-to-end enterprise support services' suite [ESS E2E] – Azimuth offers all relevant services which precede and create (or validate) agencies' requirements for ERP procurement, which will align and comply with the CPM, with managed and governed Variant-management. These include:
Project, Programme and Portfolio Management – our team members have extensive experience in governing, directing and managing waterfall and Agile programmes of work.

Business Process Modelling – members of the team are trained, accredited, and practiced in ARIS as System Designers, System Architects and System Administrators. Many have backgrounds in the related fields of business process analysis, systems development lifecycle management, systems' architecture, service design and IT service management.

Business Requirements' Definition – our team have worked to build Business Requirements either as part of ERP, or other, systems' procurement programmes, or to create Information Systems Strategic Plans.

Subject matter expertise – team members are experienced and professionally qualified practitioners in the core subjects of support services: human resources, human capital development, organisational design, change management, finance, portfolio management, procurement and the full asset management lifecycle (ISO 55000).
Our Accelerator Methodology

Leveraging a CPM eliminates time-consuming Requirements' workshops and replaces these with repetitive, rapid validation of Best Practice. The CPM contains Best Practice Business Requirements, thus reducing RFP time and cost and provides the foundation for the E2E Blueprints.

The completeness of Requirements and pre-Design documentation in the CPM enhances the quality of the Procurement process and enhances the Business Outcome.  Does not necessarily reduce the vendors' RFI / RFP response time and the overall Procure cycle time.

Agreed Best Practice is embedded in CPM – this accelerates Blueprint phase. For the creation of the Operating Model and the subsequent Organisational Design, CPM provides most of the building blocks, optimising the Blueprint phase.

The completeness of the design and requirements artefacts simplify the planning of Build sprints and increases ability to run sprints partially in parallel.  Further time and cost gains of up to 20% can accrue if a Solution is procured which permits automated configuration directly from ARIS. Additionally, ARIS provides Test Scripts.

Views and reports enhance Deployment planning and support the readiness for Releases so quality is enhanced, but Deployment itself is not a lengthy step so gains are not immediately realisable in Deployment. (Some time and cost savings accrue from reduced staffing of the planning processes.)

Consistent process documentation is available to support IT Service Management (e.g., Problem Management) and Continuous Improvement initiatives.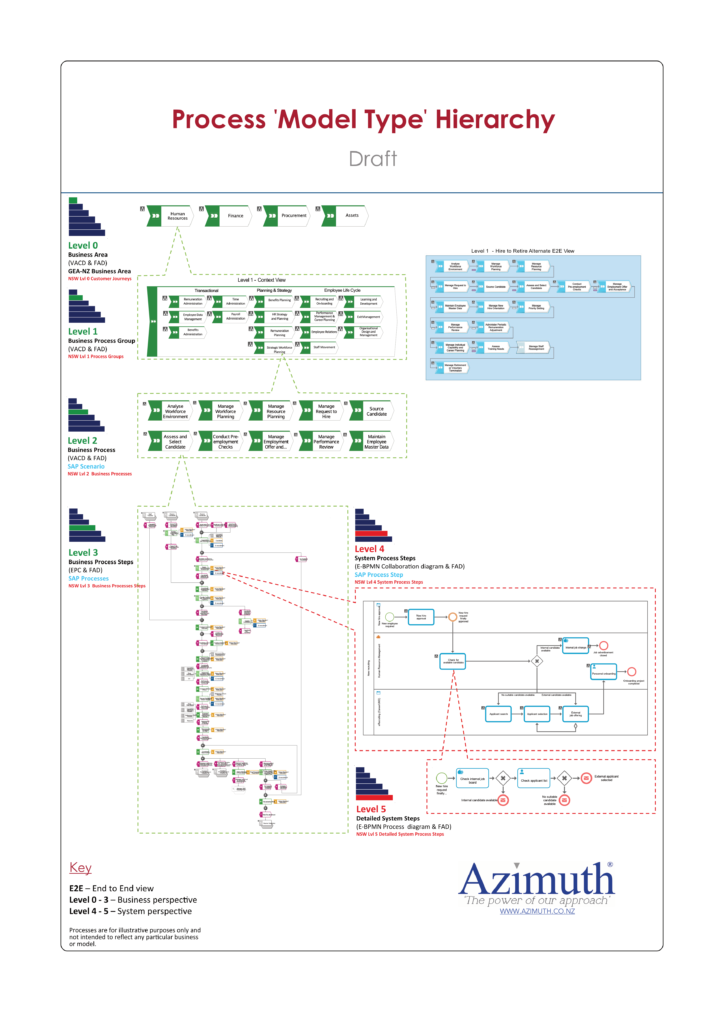 Email us for more information.