We have extensive procurement expertise designing and managing the procurement lifecycle for the private and public sectors over the last 30+ years.
Our services are encapsulated within the following focus areas;-
Policy Strategy and Design

Sourcing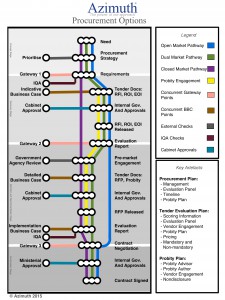 Azimuth was originally formed to offer procurement guidance to NZ Government at a time when they were moving off mainframes and onto Mini and PC platforms. Many of the early Government ICT Procurement Best Practice Guidelines were developed by Azimuth. We have continued to add value to Government ICT procurement initiatives and have extended that capability out to include guidance and assistance with the procurement of Services, Major Infrastructure Assets and out/in sourcing. 
Our advice and activities are guided by the various Government adopted Procurement Standards and Frameworks (CIPS, RBA, ASPP, AIPP, PPP) and the Azimuth Tendering and Negotiation Framework (one of the 8 Azimuth developed and maintained Frameworks).
Our extensive Procurement Capability is Supported by our Procurement Centre of Excellence.